I am really happy to share this
Malaysian recipe
, i love this rice. My cousin sister used to prepare it, she is an expert in this. I got this recipe from her, She lives in Malaysia, will post more recipes learning from her. I thought i will share this excellent rice variety with you my dear friends, this is very simple to cook but taste tremendous.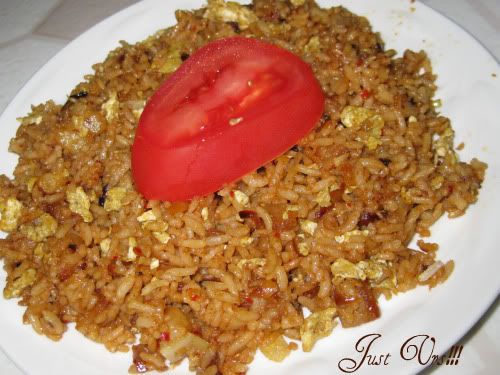 Ingredients:
Cooked Rice - 1 cup



Cabbage chopped



Beans chopped



Garlic - 5 pods finely chopped



Onion - 1 finely chopped



Eggs - 4



red chillies - 5



Ginger - 1 inch



soya sos - 1 tsp



Tomato ketch - 1 tsp



Oil - for sauteing



Salt - required



Chilli powder - 1/2 tsp



Pepper powder - 1/4 tsp
Preparation:
First of all you need cooked rice, even you can used the left over rice.



very finely chop the onions and garlic.



Chop the beans and cabbage and keep it aside.



In some hot water, soak the redchillies and keep it aside for 15 min



Heat 2 tsp of oil in the pan, once the oil is hot.



Add the chopped garlic, toss till slight brown.



Now add the chopped onion, saute till golden brown.



Then add the chopped vegetables to this mixture.



Let it get cooked for some time, in the mean time grind the soaked red chillies and ginger to a fine paste.



Now add the paste to the vegetables, mix well.



Add 1 tsp of soya sos and tomato ketchup, add some water if required.



Mix well and cook for some time.



Now add the cooked rice, mix well to it. now check for salt



if required add the salt and chilli powder as required and pepper powder



Be cautious about the spice, if you are serving for kids



Break and toss all the egg in a bowl, add salt,chilli powder and pepper powder to the eggs



In a new pan, cook the egg, Scrabble it into pieces.



Garnish the rice with this cooked egg.



Serve hot.
This rice will not require any side dish or gravy.